What are LifeBank's Twin Social Development Programs?
What are the LifeBank's Twin Programs?
The Social Enterprise Program (SEP) and the Smart Agriculture Program (SAP) are twin programs launched in 2013. Both programs latch onto the economy sphere of LBF's strategic roadmap towards providing social and sustainable development projects to reach the country's enterprising poor.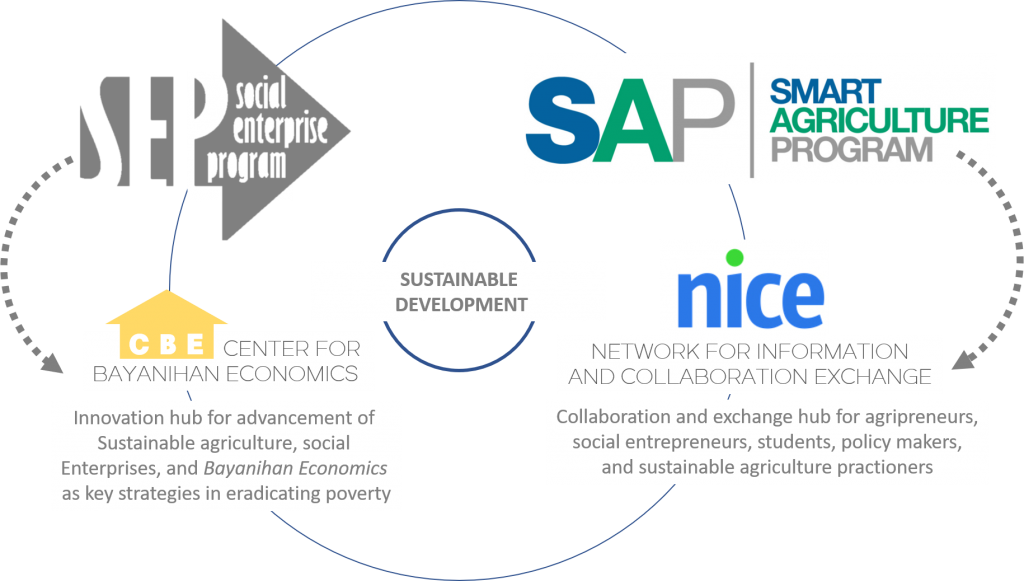 The Social Enterprise Program
The SEP envisions to advance economically challenged families and communities and graduate micro-entrepreneurs into the phase of sustainable economic and human development. It is also aiming at leading a movement for agricultural and rural renaissance for sustainable countryside development. SEP conceived the Center for Bayanihan Economics (CBE) to realize those visions. CBE is a hub for innovation, development, and mainstreaming of social enterprise and Bayanihan Economics as a key strategy in eradicating poverty.
The specific objectives of SEP are to:
Set up a joint Gawad Kalinga-Center for Social Innovation (GK-CSI) and LBF Center for Bayanihan Economics (CBE) as the innovation, development, and commercialization hub of both institutions' effort to advance social enterprises.
Identify and develop, thru CBE, 10 agricultural industries to become the beginning anchor for agri-based social enterprises.
Develop social enterprises for at least 60 LBF members.
Develop social enterprises for at least 20 GK-CSI Agrarian Reform Beneficiaries (ARBs).
Identify and develop two (2) sets of LBF micro-enterprise clusters for integration and scaling up into bayanihan or associative economic social enterprises.
Assist qualified members of GK-CSI's 3,000 ARBs by providing them access to LBF's micro-finance program.
Provide, thru an appropriate intervention by LBF, loan support to 10 GK-CSI enterprises in their expansion efforts and their intention to create stronger markets.
Smart Agriculture Program
The Smart Agriculture Program, on the other hand, envisions to develop and disseminate a holistic and sustainable agro-economic model that would improve the food security, livelihood, and economic status of disadvantaged farmers and agri-based micro-entrepreneurs. This will be done by piloting and promoting climate-smart and horizontally-linked sustainable agriculture-based micro-finance and social enterprises.
SAP has two major objectives. First, SAP aims to empower farmers and agri-based micro-entrepreneurs with sustainable agriculture designed to be climate resilient and planned to enhance their food security.
Second, SAP aims to harness a social business approach to sustainable agri-enterprises that would give farmers and micro-enterprising poor households access to innovative forms of agricultural finance and new business models that would improve their economic status and eventually help them escape from the poverty trap.
The Smart Agriculture Program has the following strategies:
To research and document the latest developments in Smart Agriculture, including climate smart sustainable agriculture, rural poverty, food security situation, mature agriculture-based production and marketing technologies, successful agri-microfinance, profile of existing microfinance borrowers, and existing models and practices of agri-based social enterprises.
To identify and convene a gathering and workshop of resource persons in all the aforementioned areas of research and documentation.
To identify, from such a gathering, promising and innovative approaches to Smart Agriculture, as described and defined above.
To publish the identified innovations in Smart Agriculture.
To rapid prototype selected innovations in Smart Agriculture, especially those that address all aspects of the challenges above.3
To establish a societal infrastructure, based on partnerships of individuals and institutions from business, government, and civil society, for the mainstreaming of successful rapid prototypes.
To inaugurate the appropriate credit window and financial delivery system to mainstream selected innovations in Smart Agriculture.